Harry Potter Fandom
Multi-chaptered Fics
The Traveller
Summary: Hermione has deviated from an obvious life. She has moved down a challenging and divergent, but ultimately lonely, path. She meets Severus Snape by chance one day, and she has some difficult choices to make.
Words: ~ 21000
Pairing: Severus/Hermione
ALT links: FFNet | Ashwinder | TPP



The Silvering Divide
Summary: Hermione encounters a strange lake-dweller one morning. Her new friend will give her insight into the most mysterious man of them all...
Words: ~ 52000
Pairing: Severus/Hermione
ALT links: Ashwinder | TPP





Christmas Addition to the Silvering Divide: Silver Bells
ALT links: Ashwinder





Mirrored Fascination
Summary: Symmetrical thoughts and mirrored fascination. A double point of view fic, set after HBP.
Words: 9800
Pairing: Severus/Hermione
ALT links: Ashwinder |TPP


Hearts Over Dracontias
Summary: Charlie Weasley investigates a mysterious dragon killing.
Words: 56000
Pairing: Charlie/Luna

Scent of a Woman
Summary: Missing Scenes from HP and the Deathly Hallows.
Words: 3000
Pairing: Blaise Zabini/Susan Bones
---
Drabble Series
Cobwebs of the Past
Summary: Hermione meets Eileen Snape at Spinner's End, and she pries into the past that Severus never speaks of.
Words: 6500
Pairing: Severus/Hermione
ALT link: Ashwinder



Souls in Vortex
Summary: Snapshots of an uncontrollable descent to tragedy.
Warning: Dark Fic, Character Death, Abortion issues
Words: 630
Pairing: Severus/Hermione
ALT links: Ashwinder


First Kiss
Summary: A collection of Potterverse first kisses.
Words: 1600
Pairing: Various


Just Cruising
Summary: A cruise on the Dead Sea
Words: 600
Pairing: Various



---
One-Shots
Unreliable Trio
Summary: A study in bitterness and broken relationships, as told by Severus, Hermione and Ron.
Words: 3000
Characters: Severus, Ron, Hermione (SS/HG; SS/RW; HG/RW)
Warning: Unreliable narrator
Rating: NC-17




Up to No Good
Summary: Since being confined to Hogwarts, Moaning Myrtle has developed a new pastime…
Words: 500
Pairing: Tom Marvolo Riddle/Jean Hepzibah Smith

Moonlight Beginnings
Summary: It's the night before Harry and Ginny's wedding and you can't sleep...
Words: 2235
Pairing: Charlie/Hermione

Pieces of Me
Summary: Their little girl gets married...
Words: 1500
Pairing: Severus/Hermione

Something Like Love
Summary: Hermione is a workaholic MoM employee after the Second War. She's allergic to commitment. One day, in the course of her duties, she meets Snape, with whom she has a hot one-night stand. She gets pregnant. What happens next?
Warning: Pro-choice stance
Words: 7000
Pairing: Severus/Hermione



On Greenstone Lake
Summary: Unspeakable Granger goes on a field trip and discovers more than she bargained for. An EWE Valentine's Story set in New Zealand.
Words: 5900
Pairing: Severus/Hermione

Country Rose
Summary: Neville and Hermione go for a summer's walk.
Words: 2050
Pairing: Severus/Hermione

Escape from Grey
Summary: When the war becomes oppressive and almost too much to bear, Draco rescues Ginny for an afternoon.
Words: 1500
Pairing: Draco/Ginny

Red Dawn
Summary: It's 1979 and wartime grim. Dorcas drags Hestia out to a disco club.
Warning: Dark Fic
Words: 1000
Pairing: Sirius/Dorcas

Mask of Sanity
Summary: Minerva McGonagall receives a letter fifty years after it was written.
Warning: Dark and Grim
Words: 750
Pairing: Minerva/Tom Riddle

A Matter of Merit
Summary: The Founders implement the House points system with some initial hiccups.
Words: 750
Pairing: Godric/Helga



Requiem for a Lonely Soul
Summary: Dumbledore's phoenix was singing again.
Words: 800
Percy Weasley Gen-fic

Advice From Agatha
Summary: Charlie Weasley receives a very special Valentine's card.
Words: 800
Pairing: Charlie Weasley/Meghan McCormack

The Scarlet Letter
Summary: Hermione receives a Howler after waking alone.
Words: 750
Pairing: Viktor/Hermione

Remember, Remember
Summary: Hermione and Severus meet one cold day at Dumbledore's tomb.
Words: 785
Pairing: Severus/Hermione

Seven Years
Summary: The progression of Rose and Scorpius' relationship over their seven years at Hogwarts.
Words: 700
Pairing: Scorpius/Rose

Tainted
Summary: The war does not stop at Hogwarts' gate
Words: 500
Pairing:Evan Rosier/Dorcas Meadowes

Under African Skies
Summary: She'd made her choice. And now, her home was where her heart was—deep in the African Lowveld.
Words: 500
Pairing: Severus/Hermione

She Never Learns
Summary: His teeth were surprisingly clean tonight. Sparkling, in fact.
Words: 500
Pairing: Severus/Sinistra



Intentions
Summary: Summary: One possible prequel to Obsession
Warning: Dark Fic
Words: 500 + 100
Pairing: Severus and Hermione

Glimpses
Summary: A collection of Potterverse drabbles
Various pairings.
---
Crossovers
Darling Detained Dexter
Summary: Crossover with Dexter. The voice was more hypnotic and commanding than the moon, more insistent than my own Dark Passenger. I froze in mid-stride; the Dark Passenger hissed and snarled and unsheathed its claws. Good Muggle… now, walk down the next alley to your left…
Words: 2400
Crossover with: HP-Dexter
---

Harry Potter Fanart

A Formal Occasion
Summary: Severus and Hermione pose for a photograph at the Victory Ball

Beardsley Inspired Art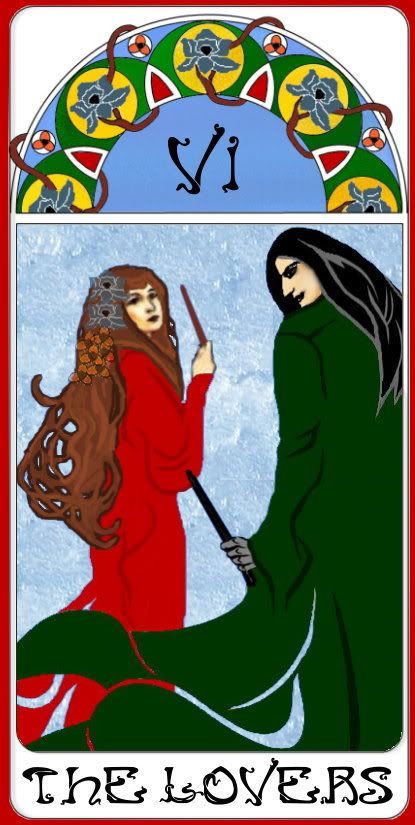 ---
Twilight Fandom
My Immortal
Summary: Bella wakes to immortal life.
Words: 2500
Pairing: Edward/Bella

Return To Me
Summary: Jacob Black returns to La Push.
Words: 1850
Pairing: Jacob/Bella

Esme's Heart
Summary: My child is not dead this time, but my heart is broken, still.
Words: 840
Pairing: Emse/Carlisle
---
Eragon Fandom
Damned
Summary: Murtagh and Thorn stop near Furnost on their way back to Urû'baen.
Words: 500
Murtagh gen-fic

Legend
Summary: A moment in the King's court, fifty years after...
Words: 700
Roran gen-fic

Et in Alagaësia ego
Summary: I am also in Alagaësia. Possible snapshots of the past, present, and future.
Words: 2100
Eragon gen-drabbles and snapshots
---